The Beer Machine has been shipping Craft Beer around the world since 1989.
Our Humble Canadian Beginnings
In the 4th quarter of 1989, The Beer Machine product line was launched in Woodwards department stores in western Canada creating a new product category for the retail trade. The Beer Machine elevated the craft from a specialty store to main street traditional retail merchandising. With sell outs in 1990 throughout western Canada, other retailers quickly came on board and by 1992 The Beer Machine was in the largest retailers from coast to coast throughout Canada selling millions of dollars in sales volume through The Bay, Zellers, Woolco, HomeHardware, Kmart, and many independent retailers. By 1994 Costco launched a pallet program and The Beer Machine began looking South to the richest retail market in the world.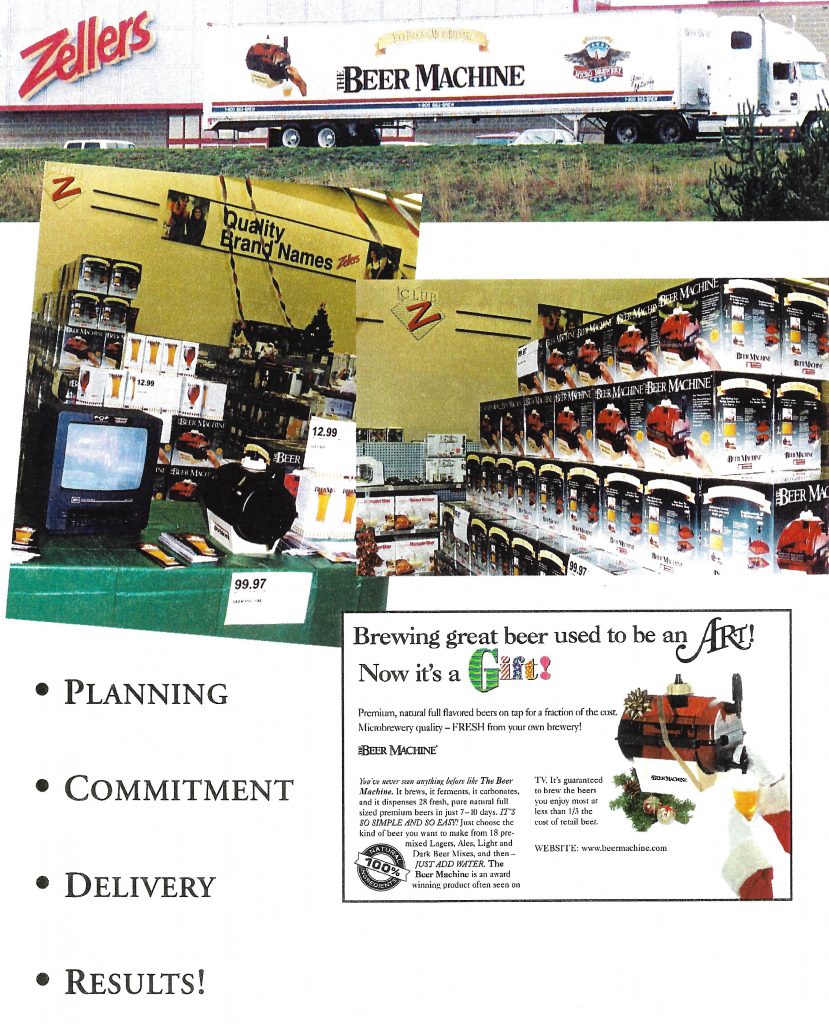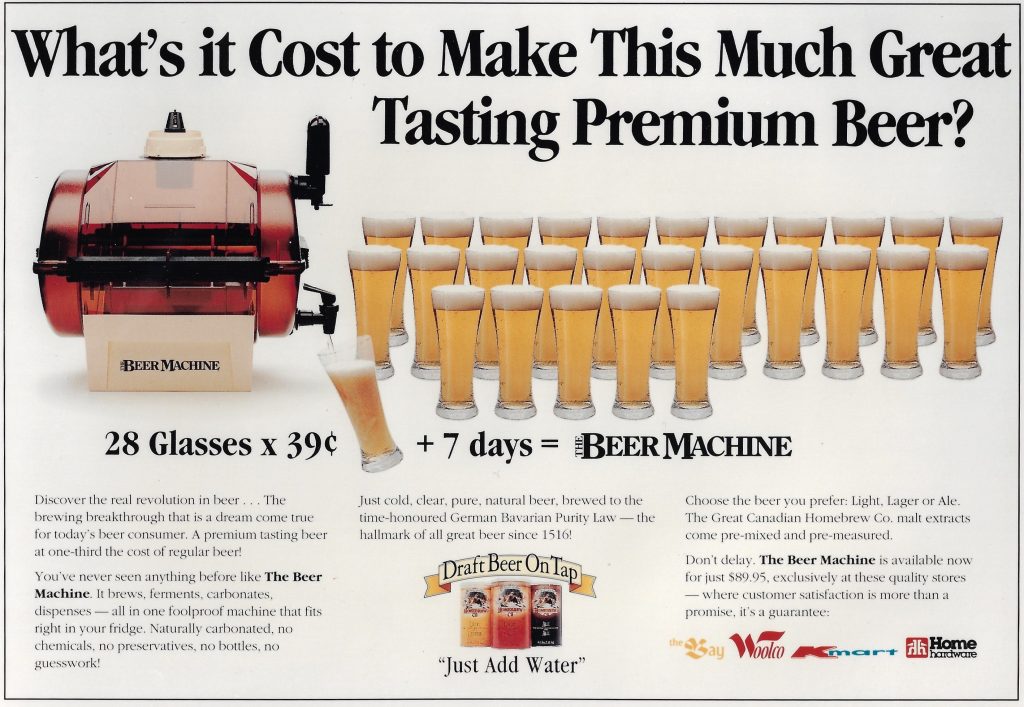 Entering the USA
The popularity or acceptance of television infomercials and TV Home Shopping during this time period prior to the internet provided the perfect platform to launch a new product with The Beer Machines consumer benefits.
In the United States, cans of Bud and Miller at that time often cost less than bottled water and craft beers were still in the early stages of market acceptance. A generation of "Baby Boomers" had been weaned on a ubiquitous rather flavorless industrial brewed beer that tasted the same in New York as in Los Angeles and depended on the "Buzz" factor to consume a second drink. It worked ! Until, a new generation of the most educated demographic in history gradually replaced the baby boomers and decided they wanted flavor and quality along with the "buzz." They also wanted something local and more environmentally friendly. Into this market in transformation The Beer Machine was introduced on the coattails of KMarts Canadian success story.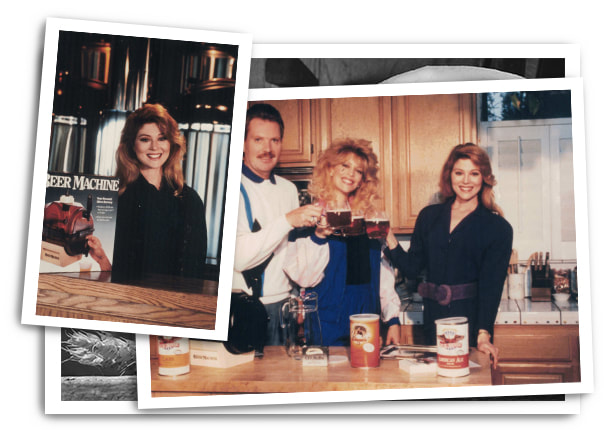 1993
Audrey Landers, gold and platinum recording artist and actress ( Afton Cooper in TV series Dallas ) and sister accomplished actress, Judy Landers (several TV series Vegas, LA Law, Happy Days, Love Boat ) celebrate introducing The Beer Machine on TV in Los Angeles.
"Hey I've really enjoyed the first few rounds of the Beer Machine, it has produced some great quality beers for my buddies and I to enjoy. I was going to start branching out from American based beers to some more foreign styles and have had some trouble choosing. I've really enjoyed my Beer Machine for the past year of owning it and look forward to future home brews for great times."
By: Stephen Patek
U.S.A
"I have just recently purchased one of your beer kits from Costco in Surrey. I have tried making beer with other methods and have had varying degrees of success not entirely satisfactory. I started with your brown ale and after only 10 days with very limited work involved and no bottleing at all (the part I hate) I am enjoying trumendous beer!!"By: Mike Kaye
U.S.A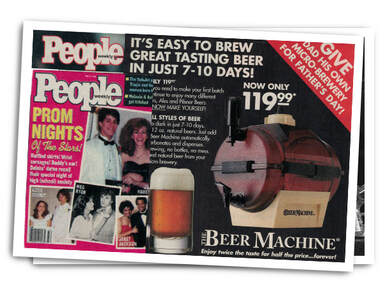 1994
People Magazine featured The Beer Machine to hundreds of thousands of People magazine readers as the perfect Father's Day gift for beer drinking Dads.
"Hi All. We have the beer machine, love it, and are considering ordering the Irish Stout Mix. Some of the other mixes include defoamer discs and CO2 cartridges. Are they included with the stout mix? If not, would they be needed, and have to be ordered separately?"
By: Ken Eidinger
U.S.A
"My friends are just learning of my Beer Machine and already one has ordered his own and another is asking (begging) his wife for one for "Father's Day." Shortly after I bought my Beer Machine, you sent me an ad to buy a second machine for a reduced price. Is that offer still available? If so, could you send me the necessary information. It would be nice to have one brewing while drinking the other."
By: Tom Buckmiller
U.S.A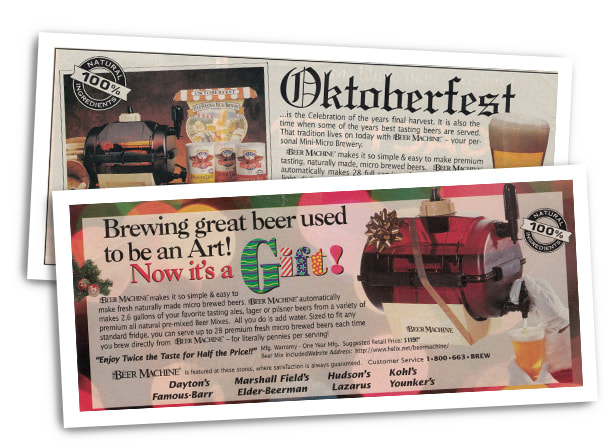 ​1995
Major department stores saw that Father's Day was so successful that it was only natural that Oktoberfest celebrations and Christmas would also make Santa Claus's work really easy.
"My wife got the beer machine for me for Christmas last year and it was one of the best gifts I have ever received. I love brewing my own beer and watching the pressure gauge as it ferments. The beer tastes great and saves me a ton of money compared to buying from the grocery store. This is some good innovation. I was surprised how easy the beer machine made the process. I'm going to order some golden lager right now. Thanks again."
By: Jonathan Kalton
U.S.A
"On Christmas day I opened a gift from my wife, it was one of the best gifts I got that day. It was my new bear machine, it was great! And like the lady said at Costco, where my wife bought my great gift, I had my first batch of beer in seven to ten days. It was great for superbowl Sunday and just sitting around on a Saturday night with the guys. And I would like to thank Terrence for all the update on all the options available to me."
By: Dan Bartley
Ajax, Ontario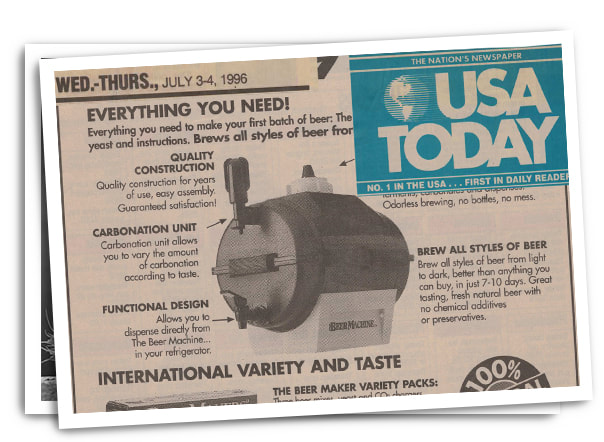 1996
Micro Breweries were growing steadily across America. Beer consumers were beginning to realize alternatives and that independence really was possible from the same old tasteless big brand beers. Local and Fresh became the rule to seek and support. USA Today featured The Beer Machine from coast to coast for Independence Day USA 1996.
The appetite of American retailers for new products advertised on television resulted in large orders from department store retailers from every corner of the United States which today have been consolidated into the Macy's organization. Catalogs, Sky Mall promotions, Sharper Image, and Costco along with thousands of independent retailers throughout the United States drove millions of dollars in retail sales and caught the attention of international markets. New technology, the internet and ecommerce were on the Horizon but at this time 2001 – 2002 after the "Dot Com Bust", International markets presented very compelling new opportunities.
World Wide Expansion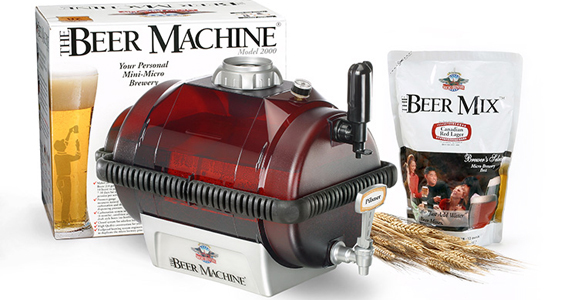 1 ) No restrictive regulations against equipment and beer making ingredients !!
2 ) The Beer Machine is the fastest brewing method possible because it performs all the beer making procedures of fermentation, carbonation, and conditioning simultaneously within 7 – 10 days. No bottling or subsequent steps are required.
3 ) Makes All varieties of Craft Beers for less than .50 per serving.
4 ) Generated retail sales volume around the world approaching 100 million dollars.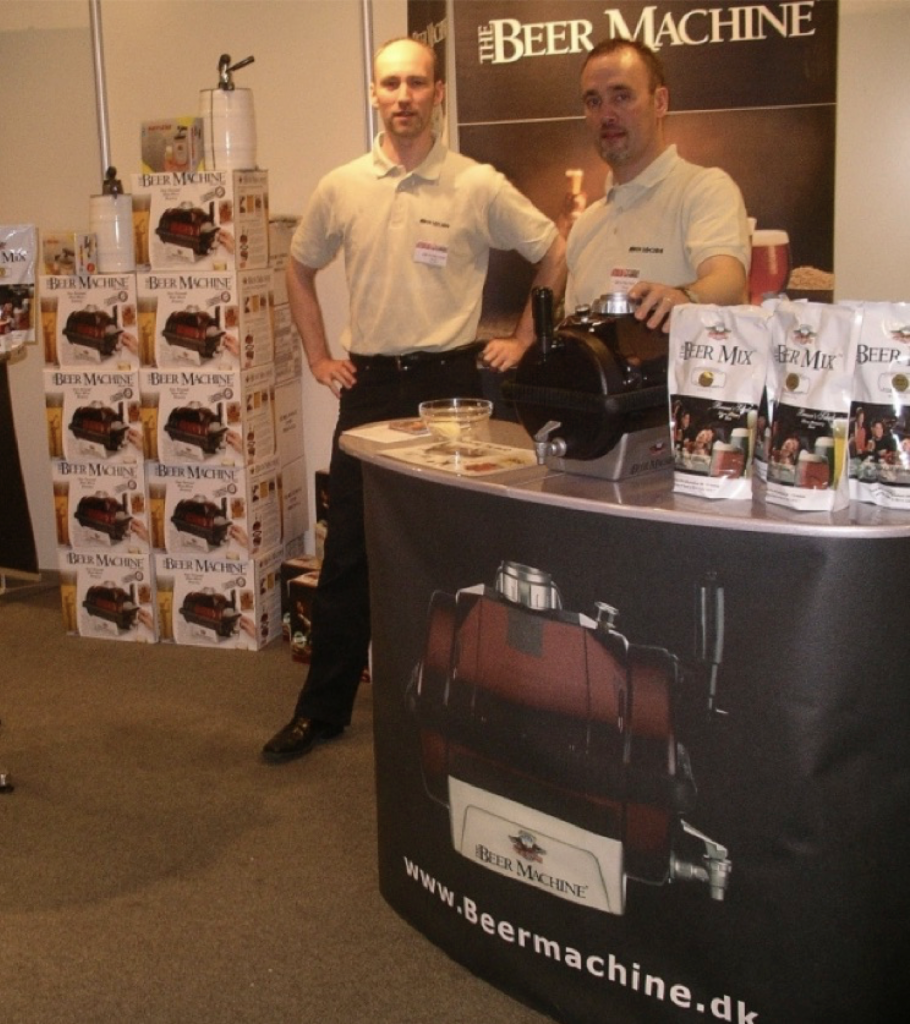 Popularity of the beer machine in the united states and canada resulted in global distribution of the product line generating sales with retail value approaching 100 million dollars The network of distributors for The Beer Machine product line extends literally around the world.
The existing distribution network for The Beer Machine product line is a unique and very valuable asset that management has many years experience working with and maintaining strong relationships.
The English language countries are Corporate maintained markets
Non English markets operate on five year term exclusive distribution agreements.
The Distribution Pipeline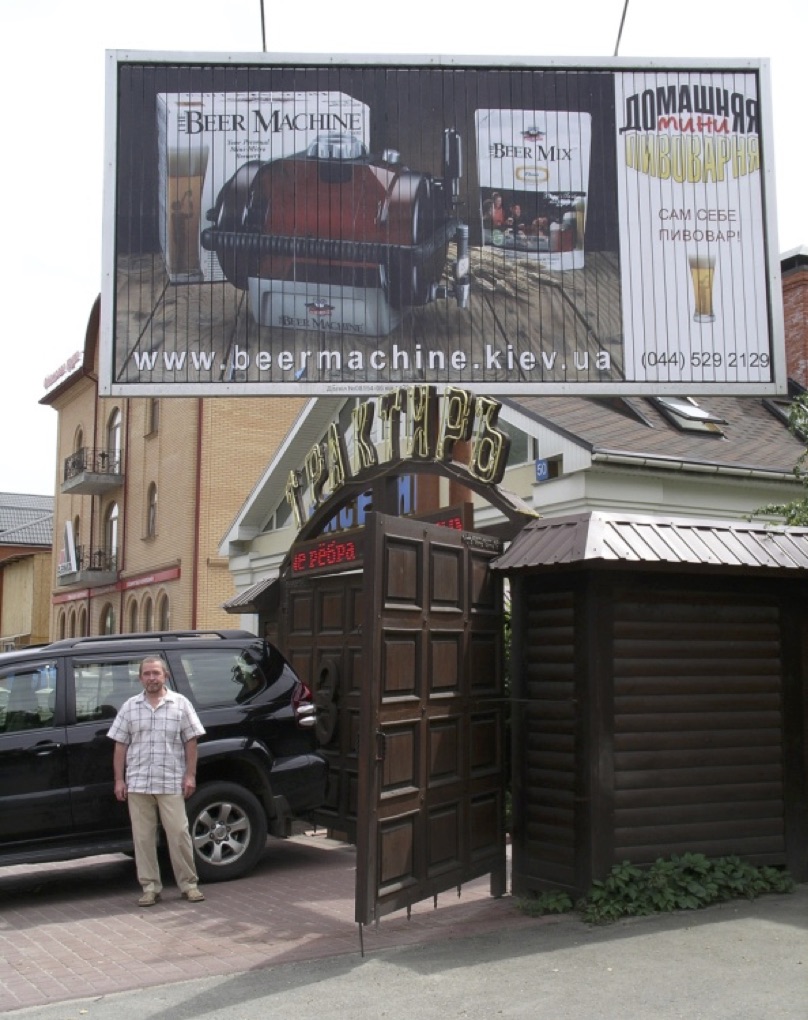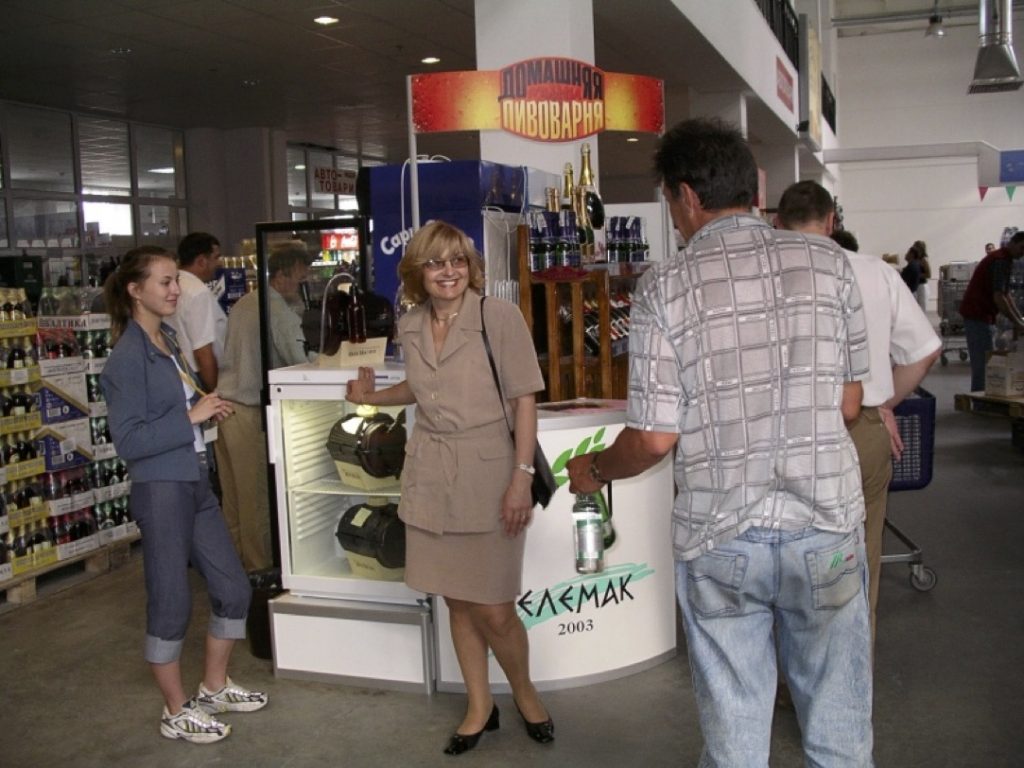 One of the valuable off balance sheet assets of The Beer Machine is the distribution pipeline created over the years by The Beer Machine product line. Many international trade shows have always attracted new customers and distributors throughout the world. During the past 20 years, The Beer Machine product line has attracted distributors and sales representatives in more than 20 countries. Each distributor is already knowledgeable and trained regarding the advantages of the brewing process with the powdered Beer Mixes developed for The Beer Machine. The distributors in Russia and Ukraine own a popular restaurant and pub in Kiev that has been very successful since 2003 in distributing and marketing the Beer Machine in both Russia and Ukraine with warehousing and offices in Saint Petersburg as well as in Kiev, Ukraine.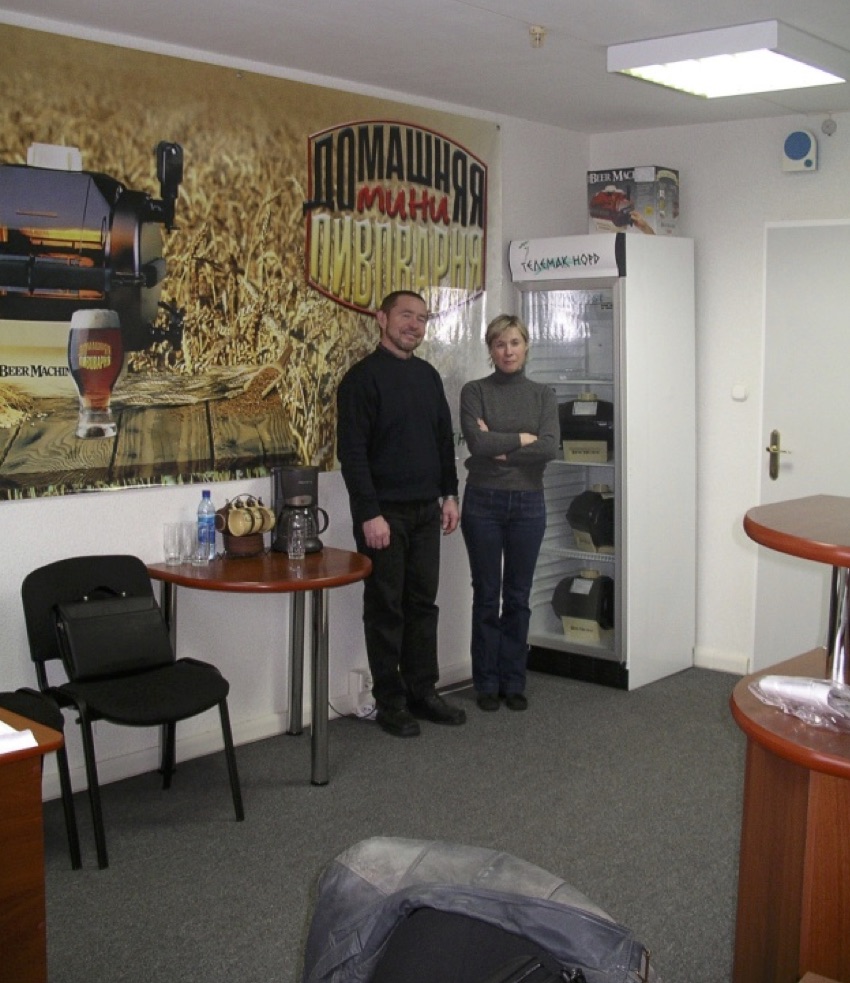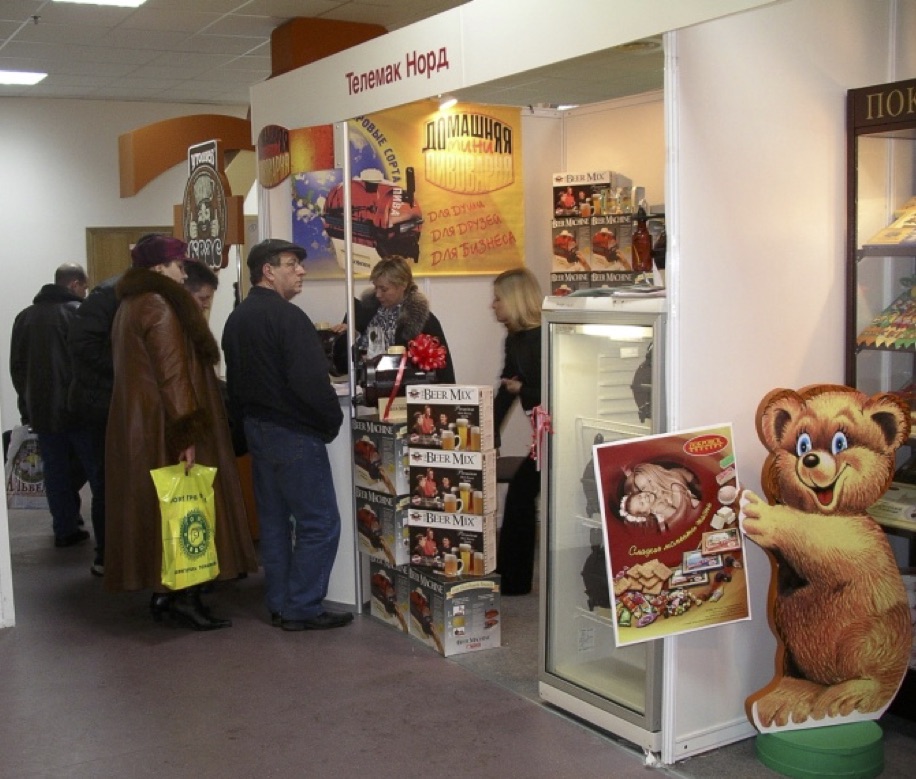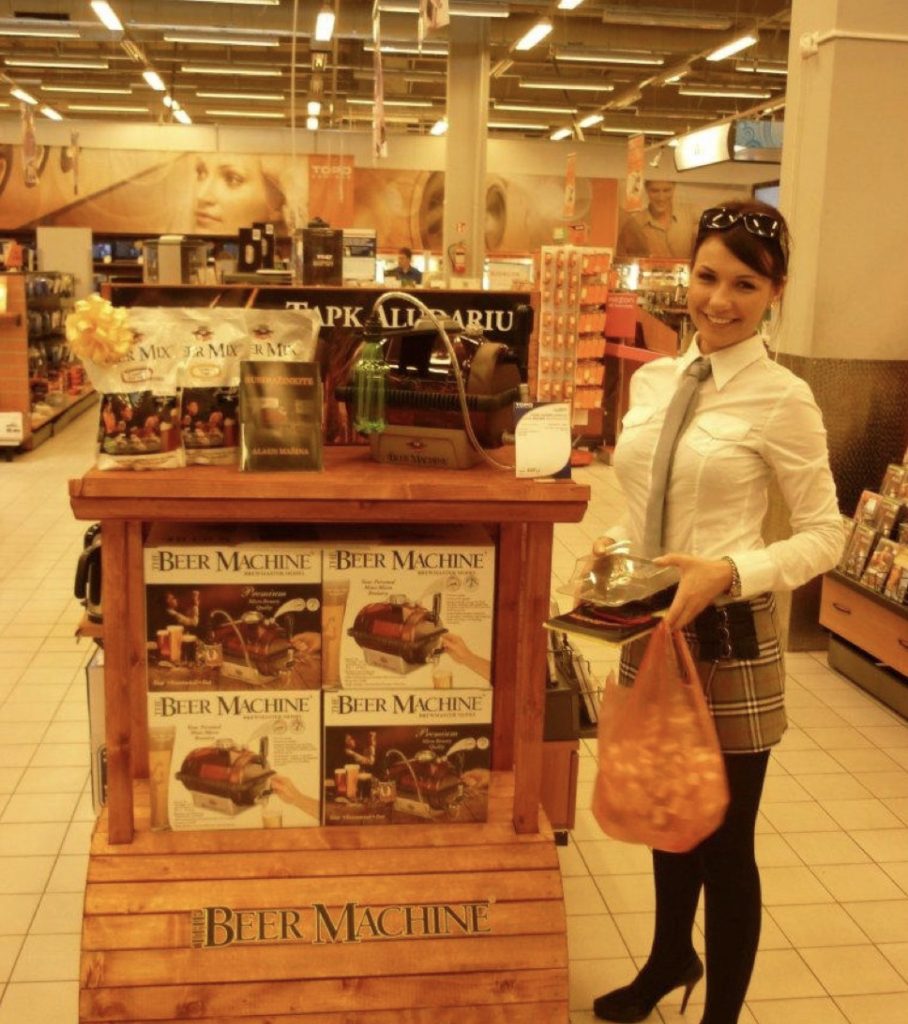 The network of distributors for The Beer Machine product line extends literally around the world. The Craft Beer movement has also had a strong  influence and loyal following in many Global Markets. This is because the fundamental reality is that a beer – any beer tastes best when it is consumed fresh and closest to where it was brewed. Germany with more than 1500 breweries and at least one in every town has long proven this as true.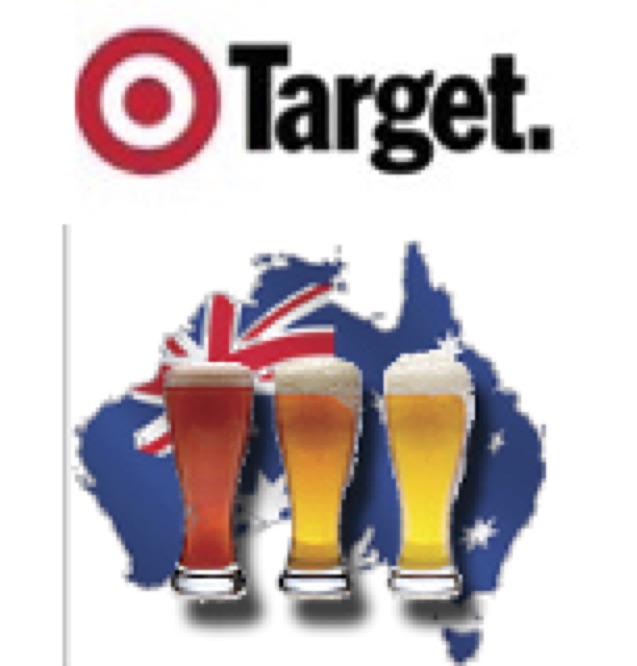 The Beer Machine Company understands what a partnership is – it's between two parties in one marketing window. You cannot have a true partnership with several parties in the same market. An example of a very successful retail partnership with The Beer Machine product line is Target Australia's 272 store retail promotion for Father's Day 2011 which exceeded Target's own projections by 160%. Sales for Christmas 2011 were well into seven figures with all sales at full retail margin. Several promotional opportunities can be planned and scheduled every year to provide a dependable framework to secure long term business profits with The Beer Machine and the reorder for many flavors of The Beer Mix. This has been the hallmark for The Beer Machine's 30 year success story.