Beer Machine has been shipping Craft Beer around the world since 1989.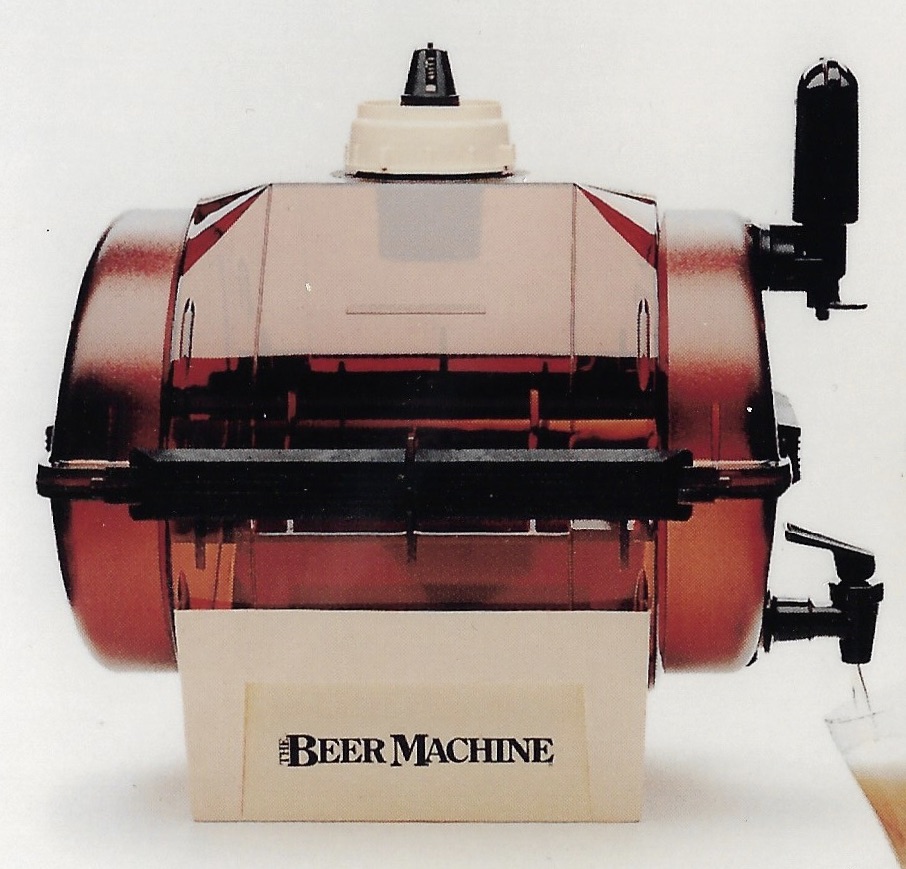 1989
​We started out in 1989 because we wanted to make exceptional beer. We put together a crack team of brewing experts and design engineers with a simple goal of making tasty craft beer without any hassle or headaches. We even consulted with one of the fathers of the "micro brewing industry", Dr. Michael Lewis, professor of Brewing Science at the University of California." If anybody knows how to make delicious suds it's him. The result was our Beer Machine. The easiest and fastest way to make great tasting beer right at home.
History of Our Marketing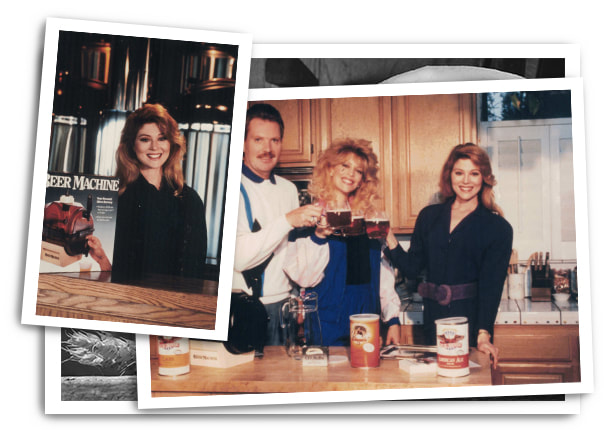 1993
Audrey Landers, gold and platinum recording artist and actress ( Afton Cooper in TV series Dallas ) and sister accomplished actress, Judy Landers (several TV series Vegas, LA Law, Happy Days, Love Boat ) celebrate introducing The Beer Machine on TV in Los Angeles.
"Hey I've really enjoyed the first few rounds of the Beer Machine, it has produced some great quality beers for my buddies and I to enjoy. I was going to start branching out from American based beers to some more foreign styles and have had some trouble choosing. I've really enjoyed my Beer Machine for the past year of owning it and look forward to future home brews for great times."
By: Stephen Patek
U.S.A
"I have just recently purchased one of your beer kits from Costco in Surrey. I have tried making beer with other methods and have had varying degrees of success not entirely satisfactory. I started with your brown ale and after only 10 days with very limited work involved and no bottleing at all (the part I hate) I am enjoying trumendous beer!!"By: Mike Kaye
U.S.A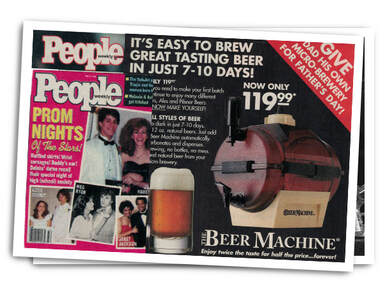 1994
People Magazine featured The Beer Machine to hundreds of thousands of People magazine readers as the perfect Father's Day gift for beer drinking Dads.
"Hi All. We have the beer machine, love it, and are considering ordering the Irish Stout Mix. Some of the other mixes include defoamer discs and CO2 cartridges. Are they included with the stout mix? If not, would they be needed, and have to be ordered separately?"
By: Ken Eidinger
U.S.A
"My friends are just learning of my Beer Machine and already one has ordered his own and another is asking (begging) his wife for one for "Father's Day." Shortly after I bought my Beer Machine, you sent me an ad to buy a second machine for a reduced price. Is that offer still available? If so, could you send me the necessary information. It would be nice to have one brewing while drinking the other."
By: Tom Buckmiller
U.S.A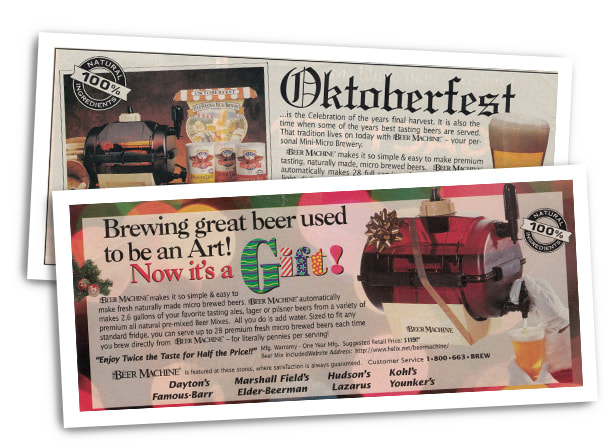 ​1995
Major department stores saw that Father's Day was so successful that it was only natural that Oktoberfest celebrations and Christmas would also make Santa Claus's work really easy.
"My wife got the beer machine for me for Christmas last year and it was one of the best gifts I have ever received. I love brewing my own beer and watching the pressure gauge as it ferments. The beer tastes great and saves me a ton of money compared to buying from the grocery store. This is some good innovation. I was surprised how easy the beer machine made the process. I'm going to order some golden lager right now. Thanks again."
By: Jonathan Kalton
U.S.A
"On Christmas day I opened a gift from my wife, it was one of the best gifts I got that day. It was my new bear machine, it was great! And like the lady said at Costco, where my wife bought my great gift, I had my first batch of beer in seven to ten days. It was great for superbowl Sunday and just sitting around on a Saturday night with the guys. And I would like to thank Terrence for all the update on all the options available to me."
By: Dan Bartley
Ajax, Ontario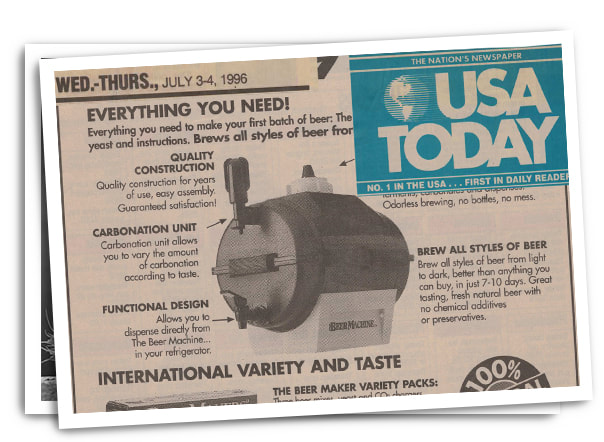 1996
Micro Breweries were growing steadily across America. Beer consumers were beginning to realize alternatives and that independence really was possible from the same old tasteless big brand beers. Local and Fresh became the rule to seek and support. USA Today featured The Beer Machine from coast to coast for Independence Day USA 1996.
What's the secret?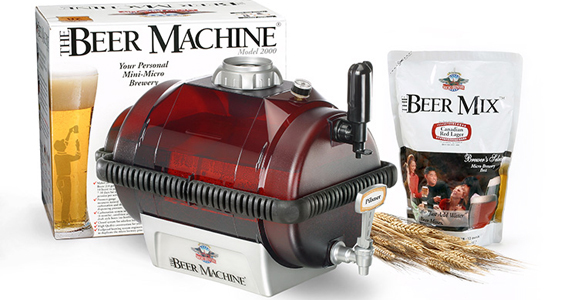 1 ) No restrictive regulations against equipment and beer making ingredients !!
2 ) The Beer Machine is the fastest brewing method possible because it performs all the beer making procedures of fermentation, carbonation, and conditioning simultaneously within 7 – 10 days. No bottling or subsequent steps are required.
3 ) Makes All varieties of Craft Beers for less than .50 per serving.
4 ) Generated retail sales volume around the world approaching 100 million dollars.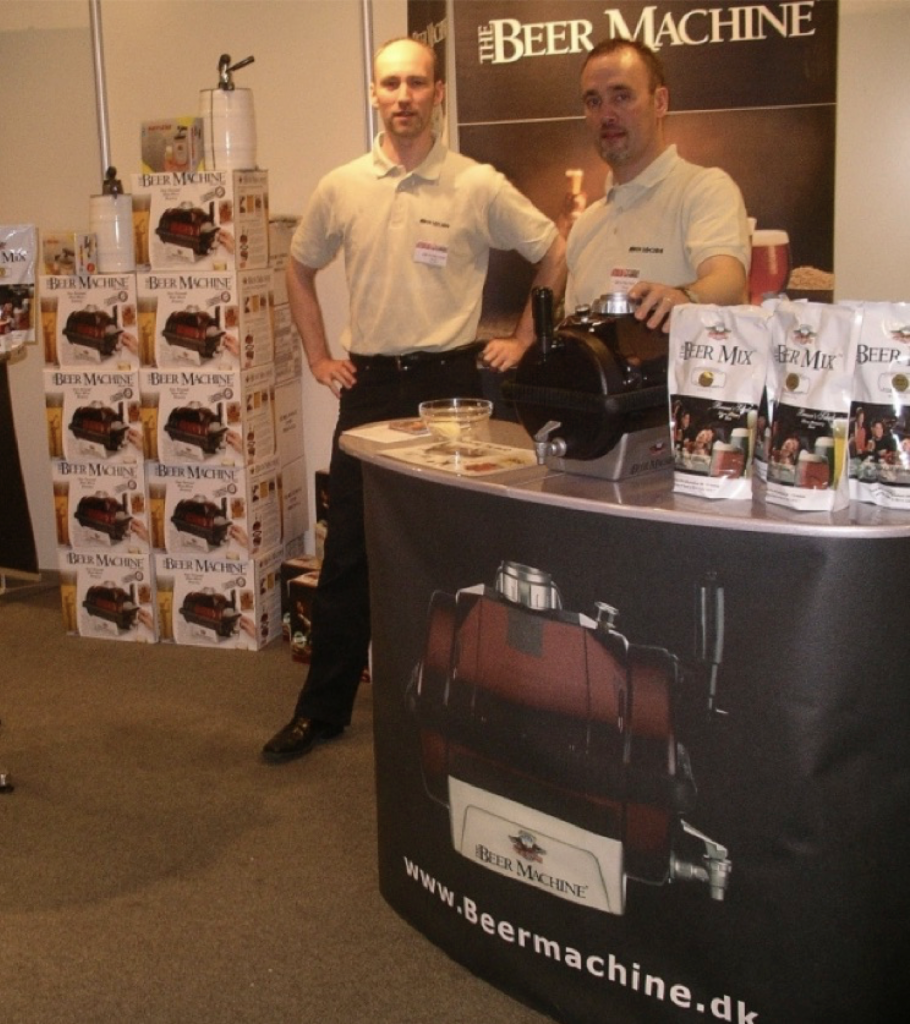 Popularity of the beer machine in the united states and canada resulted in global distribution of the product line generating sales with retail value approaching 100 million dollars The network of distributors for The Beer Machine product line extends literally around the world.
The existing distribution network for The Beer Machine product line is a unique and very valuable asset that management has many years experience working with and maintaining strong relationships.
The English language countries are Corporate maintained markets
Non English markets operate on five year term exclusive distribution agreements.